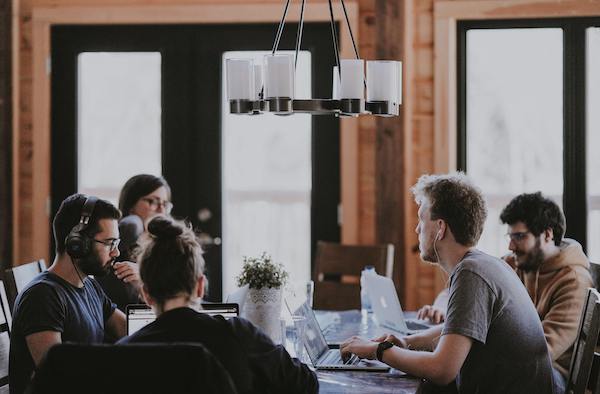 In my experience of leading agency delivery teams, I have regularly been invited into meetings to meet senior client stakeholders as a one-off, or intro, but noticed this engagement is rarely followed up with a more regular meeting. These people are often the most important decision makers in the project, and only get to understand second hand information or review deliverables at the end, when it's too late to provide further input without impacting budgets.
As part of a professional services software delivery and product build agency, client engagement and satisfaction is at the forefront of what we do to retain clients, grow market reputation and build trust.
Our delivery teams are focused on delivering the best possible value and outcomes to clients as efficiently as possible and our Agile centric approach focuses around cross discipline, self organised teams that can make this happen.
Our discovery processes allow us to meet and interview key members from the client team, understand their needs and expectations, and identify who our main point of contact and interaction will be and how best to work with them.
But in doing this, how often do the teams get to engage with the senior stakeholders client side post discovery? Is the Product / Project sponsor's voice regularly heard within the team, or do we just focus on what is shared from our key stakeholder (usually the Product Owner)?
To improve our commitment to client and teams, we recommend a steering committee.
What is a steering committee?
The Steering Committee will provide oversight of progress, support and where needed, guidance. It's an opportunity to share thoughts, plans and upcoming risks at a senior level, without impacting the core focus or delivery of the project.
Members of the committee from our side don't usually work on the project themselves, although there may be some representation (Delivery Lead / Product Lead / Tech Lead). Think of it as an over-arching retrospective, looking at how things have worked well, or where we could look to adjust to make improvements.
The main goal is to ensure the satisfaction of the end user, and outcomes of the delivery (and project) are a success and all parties remain informed.
Who should join a steering meeting?
Depending on the size of the project and client, and the team our side, the steering committee team will also vary. Examples of those involved include:

*These roles will vary based on size of the agency, size of the account, and the nature of the work being delivered
Cadence, agenda and outcomes
The regularity of a steering meeting depends on several things which I will expand on below
Need
Size of engagement
Number of stakeholders
We find that when an engagement spreads over several months, the use of a steering committee as an oversight and escalation point is useful to ensure there's alignment on both sides higher up from the delivery team itself.
The agenda generally revolves around 4 key areas:
Finances and budgets
Progress and performance
Risks and issues
Longer term plan
These agenda points or guides relate specifically to the people involved from both sides of the project, for example, if there are no representatives for strategy and longer term roadmap in the meeting (see the section on Who should join a steering meeting) then there's no point in going into vast depths about this agenda point. Just a high level overview could be enough to provide clarity and inform all parties of the position and status.
It's important to note that the meeting is not a place to solve problems but more a discussion forum to outline progress, highlight issues and take away actions. The ongoing cadence can be used to follow up on the actions taken and offer solutions or adjustments.
A great example of this was demonstrated when we onboarded a new client from another digital agency. As part of the onboarding process we recommended regular (monthly) steering meetings. The client was initially surprised, "why do we need those, we didn't used to have them?" But after the third meeting, the feedback was glowing - "These meetings are really helpful, it's exactly what was missing in our previous engagement". We helped the senior stakeholders to understand what was going on, so that they had time to think about and shape things on their side before the next meeting, without being overly involved in the day to day. The final result was a much more engaged client, a more transparent working throughout the team, and team that scaled up to meet a growing business demand much quicker than expected.
How will the Steering Meeting help?
By regularly engaging with senior members of the steering committee, early warnings, possible risks, and adjusted solutions can be discussed openly ahead of them actually appearing.
Budget discussions can be held outside of the delivery team, removing distraction from the day-to-day.
Escalations can be kept to a minimum, regular touchpoint rather than ad-hoc and unplanned. And progress updates and forecast can be shared directly with members of the client team without expectation that the message is passed on.
A steering meeting should bring closer client relationships and offer new, more insightful approaches to collaborative working.